One of the most remarkable projects I had the privilege to lead was a 73-minute-long joint opening ceremony for the statutory meeting of the International Federation of Red Cross and Red Crescent Societies (IFRC) and the International Committee of the Red Cross (ICRC). This endeavour truly pushed the boundaries of my creative and logistical capabilities.
A shortened version of the ceremony, presenting some of the main characters
The ceremony featured a captivating cello ensemble, for which I meticulously arranged music that beautifully represented the diversity inherent in the Red Cross and Red Crescent Movement. It incorporated groundbreaking holographic displays from the future, as well as the presence of esteemed individuals, including Mr Jagan Chapagain, Secretary-General of the IFRC, and Mr. Robert Mardini, Director-General of the ICRC.
My responsibilities extended far beyond design, encompassing the meticulous management of the entire event's flow and scenography. This grand production involved the active participation of youth and volunteers from across the globe, high-level panel discussions, and a moment of solemn reflection to honour the staff and volunteers we tragically lost in the preceding year.
Notably, I orchestrated a remarkable deepfake presentation featuring Henry Dunant, delivering a poignant address from the past. The ceremony, which unfolded over 73 minutes, demanded precision and dedication. Throughout the event, I operated from the control room, orchestrating the seamless synchronization of all moving components.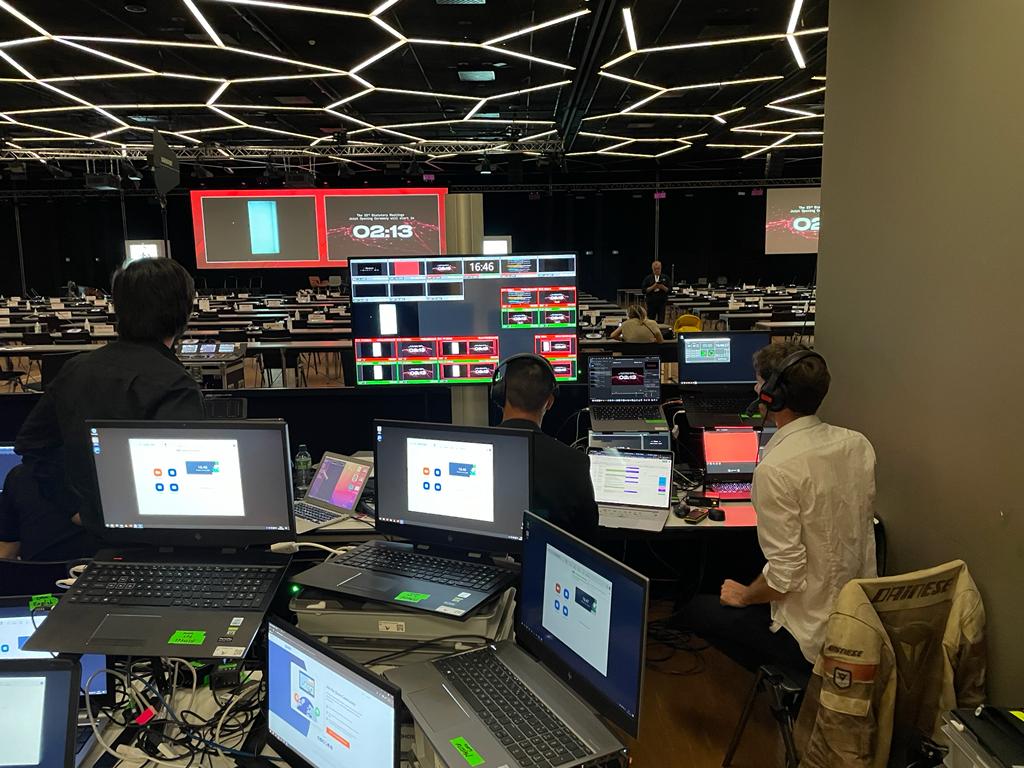 As the ceremony drew to a close, the culmination of our efforts was a resounding proclamation from the stage, with all the youth delegates joining in to declare to the world that the Red Cross and Red Crescent Movement stands as a force for good.
This project not only posed numerous challenges but also necessitated collaboration with a multitude of stakeholders. It stands as a testament to the power of teamwork and creative problem-solving.
The full spectacle of this exceptional ceremony can be witnessed in its entirety in the video below.
Here is a list of the different selected musics:
Tuning the quartet instruments, https://www.youtube.com/watch?v=KfSH1ezevjM – 30 seconds
Video Launch | Gnonnas Pedro – Yiri Yiri Boum, https://youtu.be/h8GKBTvliFk – 30 seconds (seamless transition with the video's sound, not easy)
Opening | Altın Gün – Goca Dünya, https://www.youtube.com/watch?v=WXTIJzPg1H4 – 30 seconds (keeping measures 1 and 2, then 5, 4 measures at 105 bpm)
Hologram | Abu Ali Ziad Rahbani – Abu Ali, https://www.youtube.com/watch?v=qxIZDpShHC0 – 30 seconds (support for the speaker presenting the future, possible effects pedal?)
Testimonies | 1 Piero Umiliani – Riforme, https://www.youtube.com/watch?v=ANHzg44oLAo&list=OLAK5uy_kXZOhWK2PmqDvTsy-QHC_25duu1K_nsng&index=15 – 30 seconds
Tribute | Hauser – Adagio | https://www.youtube.com/watch?v=kn1gcjuhlhg – 6 minutes 56 seconds
Dialogue | Piero Umiliani – Goodmornig Sun, https://www.youtube.com/watch?v=5hM_zVDBHTE&list=OLAK5uy_kXZOhWK2PmqDvTsy-QHC_25duu1K_nsng&index=17 – 30 seconds
Communion (start) | Alternative: Astor Piazzolla – Vuelvo al sur (Koop Remix), https://www.youtube.com/watch?v=iKkVciKgOHE – 30 seconds
The End | Myriam Makeby – Pata Pata, https://www.youtube.com/watch?v=lNeP3hrm__k – 60 seconds…
Special Thank You to DJ Estèphe