The General Assembly (GA) is the highest decision-making body of the IFRC. It meets every two years and comprises representatives from all member National Societies.
During this assembly, the Strategy 2030 was presented and National Societies had to vote and approve its adoption. My job was to promote the Strategy through social media activities, design and events organised during the GA. The results were spectacular. One brand, one Origami, oneEscape Room, one Strategy, one Vision. A great team effort with the Aarathi, Carlos, and Shaun, in partnership with Newcastle University Open Lab and punctuated by a thousand loughs.The logotype (4 languages)
The Origami
Sitting on each and every table for all the delegations, during the vote session, inspired by the logotype and presenting the key points from the Strategy 2030, an origami was proudly engaging with the humanitarian leaders of the world, creating a sentiment of proximity and tangibility with the product. Its lightness, simplicity, and audacity brought a real feeling of optimism attached to the Strategy, preparing the network to navigate the future.
---
Escape to the Future
THIS IS A STORY OF A PARTNERSHIP BETWEEN THE IFRC AND OPEN LAB AT NEWCASTLE UNIVERSITY AND THE CHALLENGE TO BUILD A UNIQUE EXPERIENCE THAT COULD HELP PEOPLE WHO WERE ATTENDING THE GENERAL ASSEMBLY OF 2019 TO ENGAGE WITH THE NEW GLOBAL STRATEGY 2030. IT IS TOLD FROM THE TWO PERSPECTIVES OF THE PARTNERS.
How to escape irrelevance? A time-travel experience, immersive and informative, through five interactive games representing the 5 challenges that the International Red Cross and Red Crescent Movement will have to face in the next 10 years.
Design amplifies every experience by visually enhancing communication and engagement. Through thoughtfully crafted visuals, complex ideas become accessible, and challenges gain clarity. Design bridges the gap between information and understanding, making concepts more relatable and memorable. It transforms the mundane into the extraordinary, leaving a lasting impact on how we perceive, learn, and interact. In this way, graphic design doesn't just adorn, it empowers, enlightens, and enriches, providing a powerful tool to navigate and conquer challenges.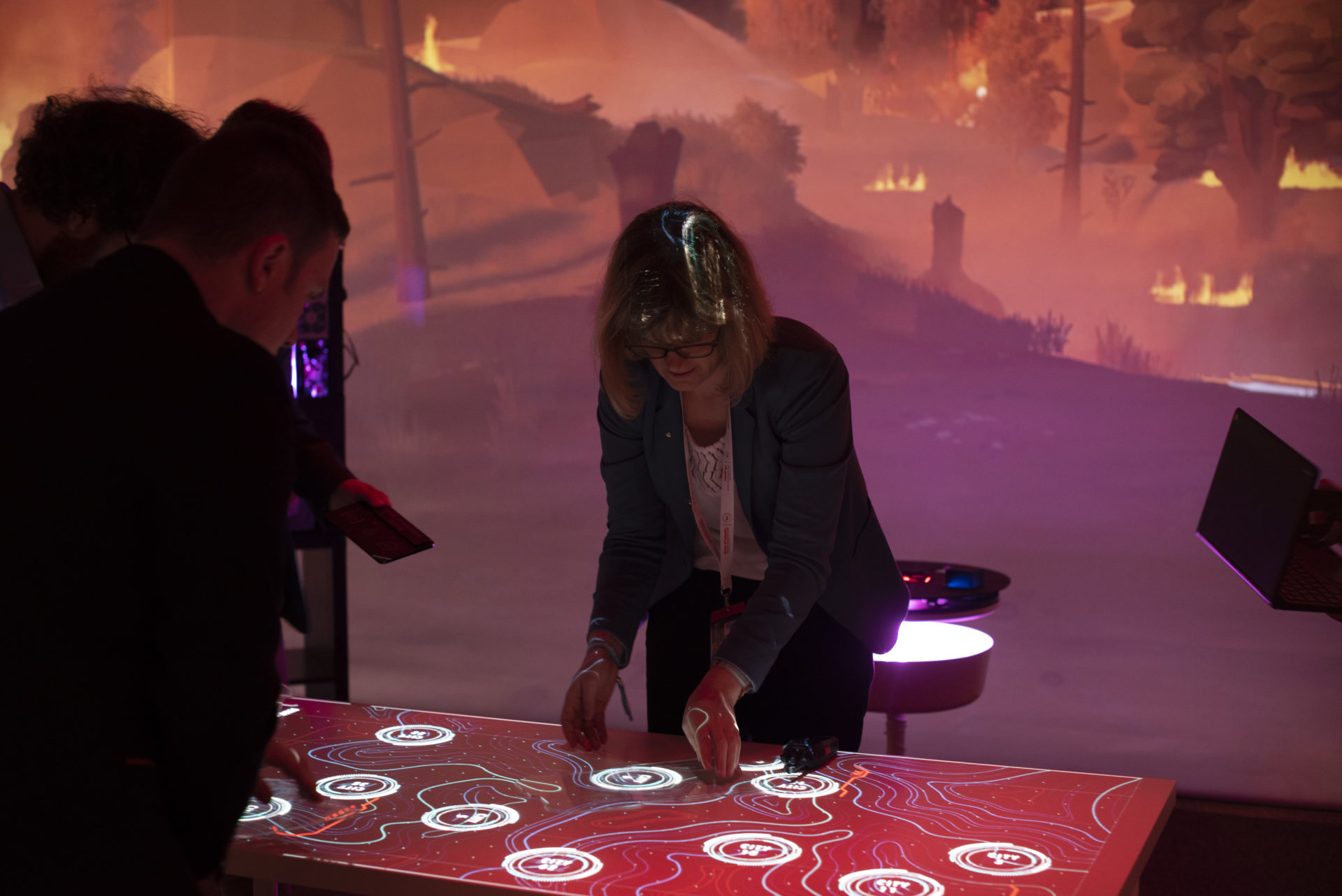 You can read this blog hosted on the IFRC's Innovation team website, and written by the game designers.